About Us
Toronto Fried Chicken is a Chicken takeaway in Oldham. Why don't you try our Vimto or Meal 3?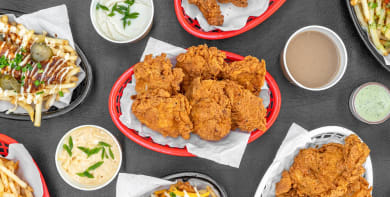 Reviews
378 reviews
Emily
"Food was lovely and still hot when it arrived, will order again from here"
06/04/2021
Mel
"That was super speedy delivery. The food is always lovely and the staff/drivera are brilliant and friendly. 🙂👍"
02/04/2021
Ayaan
"food was good but u guys forgot cheese i ordered. its ok tho"
01/04/2021
Sannah
"delicious and delivered early"
31/03/2021
Menu
Drink Orange Juice Capri Sun
Chicken Nuggets 04 Pieces
£3.00
Chicken Nuggets 06 Pieces
£3.40
Chicken Nuggets 09 Pieces
£4.20
Ben & Jerry's (100ml) Caramel Chew Chew
£2.80
Ben & Jerry's (100ml) Chocolate Fudge Brownie
£3.10
Ben & Jerry's (100ml) Cookie Dough
£3.10
Ben & Jerry's (100ml) Strawberry Cheesecake
£3.10
Ben & Jerry's (100ml) Vanilla
£3.10
Meal 1
Chicken sandwich, chips & drink
£4.90
Meal 10
Double cheeseburger, chips & drink
£5.60
Meal 11
Veggie burger, chips & drink
£4.60
Meal 12
Hot wings (5), chips  drink
£4.60
Meal 13
1 Piece of chicken & chips
£3.40
Meal 14
2 Pieces of chicken & chips
£4.10
Meal 15
3 Pieces of chicken, chips & drink
£5.40
Meal 16
2 Pieces of chicken, 2 wings, chips & drink
£5.40
Meal 17
3 Pieces of chicken, 3 wings, chips & drink
£5.90
Meal 18
2 Pieces of chicken, 2 strips, chips & drink
£5.50
Meal 19
Nuggets (9), BBQ sauce, chips & drink
£5.10
Meal 2
Chicken wrap, chips & drink
£4.90
Meal 20
6 Pieces of Chicken & 4 portion of chips
£10.50
Meal 21
3 Chicken wings, 2 strips with large chips & a can of soft drink
£4.70
Meal 22
Chicken popcorn, chips & drink
£4.70
Meal 23
Tower burger meal
Chicken fillet burger, cheese, hash brown, 3 onion rings, chips & drink
£5.80
Meal 24
Tower burger (on it's own)
Chicken fillet burger, cheese, hash brown & 3 onion rings
£4.40
Meal 25
Toronto burger meal
Fillets burger, beef burger, cheese, hash brown, 3 onion rings, chips & drink
£6.30
Meal 26
Toronto burger (On its own)
Fillet burger, beef burger, cheese, hash brown, 3 onion rings
£5.10
Meal 27
Double tower burger meal
2 Chicken fillets, hash brown, cheese, chips & drink
£6.50
Meal 28
Double tower burger (on it's own)
2 Chicken fillets, hash brown & cheese
£5.10
Meal 29
Ringo burger meal 
1 Beef, 1 hash brown, 3 onion rings, chips & drink
£5.20
Meal 3
Chicken strips, chips & drink
£4.90
Meal 30
Ringo Burger (on it's own)
1 Beef, 1 hash brown, 3 onions rings
£4.20
Meal 31
Combo Box
2 Pc. Chicken, 2 Hot wings & Chips, 1 Chicken gravy
£5.30
Meal 32
Chicken Sandwich, 3 Hot wings & Drinks
£5.30
Meal 33
Chicken Wrap, 3 Hot wings & Drinks
£5.30
Meal 4
Double chicken sandwich, chips & drink
£6.00
Meal 5
Single chicken sandwich
£3.80
Meal 6
Double chicken sandwich
£4.60
Meal 8
Chicken strips (4)
£3.90
Meal 9
Single cheeseburger, chips & drink
£4.50
Ben & Jerry's Caramel Chew Chew 100ml
£2.60
Ben & Jerry's Chocolate Fudge Brownie 100ml
£2.60
Ben & Jerry's Cookie Dough 100ml
£2.60
Ben & Jerry's Strawberry Cheesecake 100ml
£2.60
Toronto Bucket
12 Pieces of chicken, 8 Hot wings, 4 Chips, 2 Sandwich &  Bottle of Drink 1.5ltr
Option to choose 2 sauces
£24.30
Family Bucket Deal 1
8 Pieces of chicken, 2 sauce (coleslaw, BBQ beans OR chicken sauce) with 4 regular chips & Bottle of Drink 1.5ltr
£12.50
Family Bucket Deal 2
10 Pieces of chicken, 2 sauce (coleslaw, BBQ beans OR chicken sauce) with 4 regular chips & Bottle of Drink 1.5ltr
£14.20
Family Bucket Deal 3
8 Pieces of chicken, 2 sauce (coleslaw, BBQ beans OR chicken sauce) with 4 regular chips, 8 spicy wings & Bottle of Drink 1.5ltr
£15.50
Family Bucket Deal 4
12 Pieces of chicken, 2 sauce (coleslaw, BBQ beans OR chicken sauce) with 4 regular chips & Bottle of Drink 1.5ltr
£16.50
Family Bucket Deal 5
15 Pieces of chicken, 2 sauce (coleslaw, BBQ beans OR chicken sauce) with 4 Large chips & Bottle of Drink 1.5ltr
£19.40
Kids Meal 1
4 Chicken nuggets, chips & small drink
£4.00
Kids Meal 2
1 Piece of chicken, chips & small drink
£3.90
Kids Meal 3
8 Popcorn chicken, chips & small drink
£4.00
Kids Meal 4
2 Piece Chicken strips, chips & small drink
£4.00
Contact Us
Find Us
57 Union Street, Oldham, OL11HH
We deliver to
OL1, OL2, OL4, OL8, OL9