About Us
Toronto Fried Chicken is a Chicken takeaway in Oldham. Why don't you try our Vimto or Meal 3?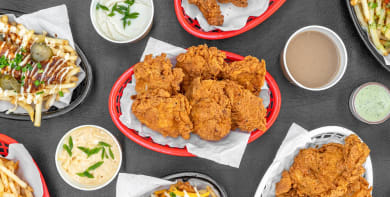 Reviews
421 reviews
Ian
"Food was great but didn't get my chocolate cake☹"
15/11/2020
Harley
"Lovely food, definitely would recommend it"
11/11/2020
Nazia
"Perfect"
04/11/2020
Margaret
"Food was very tasty and the services was amazing ordering again tonight recommended to everyone"
18/10/2020
Menu
Drink Orange Juice Capri Sun
Chicken Nuggets 04 Pieces
£3.00
Chicken Nuggets 06 Pieces
£3.40
Chicken Nuggets 09 Pieces
£4.20
Ben & Jerry's (100ml) Caramel Chew Chew
£2.80
Ben & Jerry's (100ml) Chocolate Fudge Brownie
£3.10
Ben & Jerry's (100ml) Cookie Dough
£3.10
Ben & Jerry's (100ml) Strawberry Cheesecake
£3.10
Ben & Jerry's (100ml) Vanilla
£3.10
Meal 1
Chicken sandwich, chips & drink
£4.80
Meal 10
Double cheeseburger, chips & drink
£5.50
Meal 11
Veggie burger, chips & drink
£4.50
Meal 12
Hot wings (5), chips  drink
£4.50
Meal 13
1 Piece of chicken & chips
£3.30
Meal 14
2 Pieces of chicken & chips
£4.00
Meal 15
3 Pieces of chicken, chips & drink
£5.30
Meal 16
2 Pieces of chicken, 2 wings, chips & drink
£5.30
Meal 17
3 Pieces of chicken, 3 wings, chips & drink
£5.80
Meal 18
2 Pieces of chicken, 2 strips, chips & drink
£5.40
Meal 19
Nuggets (9), BBQ sauce, chips & drink
£5.00
Meal 2
Chicken wrap, chips & drink
£4.80
Meal 20
6 Pieces of Chicken & 4 portion of chips
£10.40
Meal 21
3 Chicken wings, 2 strips with large chips & a can of soft drink
£4.60
Meal 22
Chicken popcorn, chips & drink
£4.60
Meal 23
Tower burger meal
Chicken fillet burger, cheese, hash brown, 3 onion rings, chips & drink
£5.70
Meal 24
Tower burger (on it's own)
Chicken fillet burger, cheese, hash brown & 3 onion rings
£4.30
Meal 25
Toronto burger meal
Fillets burger, beef burger, cheese, hash brown, 3 onion rings, chips & drink
£6.20
Meal 26
Toronto burger (On its own)
Fillet burger, beef burger, cheese, hash brown, 3 onion rings
£5.00
Meal 27
Double tower burger meal
2 Chicken fillets, hash brown, cheese, chips & drink
£6.40
Meal 28
Double tower burger (on it's own)
2 Chicken fillets, hash brown & cheese
£5.00
Meal 29
Ringo burger meal 
1 Beef, 1 hash brown, 3 onion rings, chips & drink
£5.10
Meal 3
Chicken strips, chips & drink
£4.80
Meal 30
Ringo Burger (on it's own)
1 Beef, 1 hash brown, 3 onions rings
£4.10
Meal 31
Combo Box
2 Pc. Chicken, 2 Hot wings & Chips, 1 Chicken gravy
£5.20
Meal 32
Chicken Sandwich, 3 Hot wings & Drinks
£5.20
Meal 33
Chicken Wrap, 3 Hot wings & Drinks
£5.10
Meal 4
Double chicken sandwich, chips & drink
£5.90
Meal 5
Single chicken sandwich
£3.70
Meal 6
Double chicken sandwich
£4.50
Meal 8
Chicken strips (4)
£3.80
Meal 9
Single cheeseburger, chips & drink
£4.40
Ben & Jerry's Caramel Chew Chew 100ml
£2.60
Ben & Jerry's Chocolate Fudge Brownie 100ml
£2.60
Ben & Jerry's Cookie Dough 100ml
£2.60
Ben & Jerry's Strawberry Cheesecake 100ml
£2.60
Toronto Bucket
12 Pieces of chicken, 8 Hot wings, 4 Chips, 2 Sandwich &  Bottle of Drink 1.5ltr
Option to choose 2 sauces
£24.20
Family Bucket Deal 1
8 Pieces of chicken, 2 sauce (coleslaw, BBQ beans OR chicken sauce) with 4 regular chips & Bottle of Drink 1.5ltr
£12.40
Family Bucket Deal 2
10 Pieces of chicken, 2 sauce (coleslaw, BBQ beans OR chicken sauce) with 4 regular chips & Bottle of Drink 1.5ltr
£14.10
Family Bucket Deal 3
8 Pieces of chicken, 2 sauce (coleslaw, BBQ beans OR chicken sauce) with 4 regular chips, 8 spicy wings & Bottle of Drink 1.5ltr
£15.40
Family Bucket Deal 4
12 Pieces of chicken, 2 sauce (coleslaw, BBQ beans OR chicken sauce) with 4 regular chips & Bottle of Drink 1.5ltr
£16.40
Family Bucket Deal 5
15 Pieces of chicken, 2 sauce (coleslaw, BBQ beans OR chicken sauce) with 4 Large chips & Bottle of Drink 1.5ltr
£19.30
Kids Meal 1
4 Chicken nuggets, chips & small drink
£4.00
Kids Meal 2
1 Piece of chicken, chips & small drink
£3.90
Kids Meal 3
8 Popcorn chicken, chips & small drink
£4.00
Kids Meal 4
2 Piece Chicken strips, chips & small drink
£4.00
Contact Us
Find Us
57 Union Street, Oldham, OL11HH
We deliver to
OL1, OL2, OL4, OL8, OL9